These are the most raved products and most of them are drugstore items! meaning cheap and easy to find products here in the Philippines that were listed as The Best Acne Fighters by Total Beauty. Some of these i have used already and totally recommending them for acne prone people.
Randomly arranged.
CLEAN AND CLEAR ADVANTAGE OIL FREE MOISTURIZER
Reviews about this:
"Since I've started using this I haven't had to use any spot treatments for any blemishes, this stuff clears it up before they start!" raves one reader. Since this product "works like an acne treatment, moisturizer, and even a toner in one," it is "just what [my] skin needs." Readers say "the results have been remarkable," and they have "never been so impressed with a product before." The salicylic acid helps "control the oil and shine" all day, and its "yummy citrus scent" is a big bonus.
CETAPHIL GENTLE SKIN CLEANSER
Now this product i have tried and tested! it helps lessen acne plus helps removing makeups.
GREAT GREAT product!
Reviews bout this:
Many readers started using this gentle cleanser after their dermatologist recommended it to help prevent breakouts. "It works wonders on my combination skin, leaves it feeling soft and silky afterwards and never dries my skin out," one reader says. This cleanser does what "expensive cleansers fail to do," which is to make skin feel "clean without the 'pulled tight' kind of feeling," says another. It helped one user realize that "acne-prone skin needs babying, not harsh products," and Cetaphil delivers as the "most gentle and effective cleanser you can get."
ST. IVES APRICOT RADIANCE BLEMISH-FIGHTING CLEANSER
Review about this:
Readers love the way this "creamy" cleanser feels (and smells) when putting it on. They say the "combination of ingredients" is "gentle enough to use every day" and strong enough to "do the job of cleaning the dirt and grime" off. One reader says she uses it after seeing "any evidence of an impending breakout," and it "always heads off the ugly little blemishes." Another reader says it works better than topical creams in treating body acne because "it doesn't stain clothing and it also exfoliates." After using it, her skin is smooth and soft, and the breakouts are "pretty much gone!"
THE BODY SHOP TEA TREE
Reviews about this:
"After using tons of drugstore products, none of which worked, I decided to try out Tea Tree Oil from The Body Shop. I like the fresh scent, and just a dab with a Q-tip is all it takes for my pimples to be drastically reduced overnight." -- RavenLoudspeakr
AVEENO CLEAR COMPLEXION CORRECTING TREATMENT
Reviews about this:
"If you feel like you are about to get a pimple, and you put this on before you go to sleep, that pimple will not show up," one reader promises. Other readers love that "it takes so little time to clear blemishes" at such a reasonable price. "It does a wonderful job," they say. "This stuff is amazing," says one reader who noticed that it "reduced the redness and made it easier for my makeup to go on even smoother than before." Another reader who has a habit of picking at her face says it even "helps with the scarring," and it "corrected the blemishes I had and prevented new ones from coming in!"
HERE ARE SOME "OTHER" ACNE PRODUCTS
I'm not sure if they sell here thought i know some brands below are available here in Philippines but not that sure if they are released here anyway they were listed also as inexpensive top acne fighters in the US. I think they were even better than the expensive or high end brands as i have read their reviews.
CLEAN AND CLEAR MAXIMUM STRENGTH PERSA-GEL
Reviews about this:
Readers say this is the "only on-the-spot treatment" that makes acne "completely disappear within a matter of hours (sometimes minutes)." After using this gel, readers have "completely smooth" skin and "no problem with blemishes." One reader says, "everything is slowly clearing up and my self confidence is getting higher" after one week of use. The gel "applies evenly and disappears like a moisturizer," and readers like that it "has no odor and doesn't burn."
NOXZEMA TRIPLE CLEAN ANTI-BLEMISH PADS
Reviews about this:
According to readers, these "convenient" pads are the "best of the best." One reader says it is "wonderful to be able to cleanse your face and then simply toss the pad." Another "desperate" reader says she is "so thankful" she tried these pads -- they help keep her "skin in check" and her "breakouts under control." And while it leaves skin feeling "clean and refreshed," there is "no sting, just clean!"
DESSERT ESSENCE 100% PURE TEA TREE OIL
Reviews about this:
This "natural medicine" is an antiseptic that can "be used on almost anything," including breakouts. "Tea tree oil works great for acne!" exclaims one reader. "It doesn't matter what brand you use, this stuff is [a] miracle potion." Readers say adding "a drop or two of this oil to [your] moisturizer" will control breakouts and leave you with "a great, tingly clean feeling." It helped calm "the red throbbing monsters" one reader suffered from, and dabbing the "potent formula" on a blemish will work "better than anything else."
OLAY SMOOTH SKIN EXFOLIATING SCRUB
Reviews about this:
"What a great way to start and end the day!" one reader exclaims. "I've seen a reduction in [bumps] in only the past three days I've been using this product. That makes me happy," says another. The creamy yet exfoliating formula "cleans deep down" into pores, but doesn't dry out skin -- rather, readers say it left their skin feeling "radiant" and "revitalized." It "put an end" to another reader's blackheads, leaving her skin smooth and soft.
NEUTROGENA HEALTHY SKIN ANTI-WRINKLE ANTI BLEMISH SCRUB
Reviews about this:
Readers rave: "Bravo Neutrogena! Once again, you nailed it!" They say this two-in-one scrub meets both needs: It's "sensitive enough for light wrinkles and works well with blemishes too." One reader with severe adult acne said it cleared up her complexion in a matter of days, while another reader said this is the one and only product that gets rid of blackheads. They agree the cleanser has "improved the texture and clarity" of skin, while making skin "tighter, softer and vibrant."
BIORE PORE UNCLOGGING SCRUB
"This stuff is the bomb!" exclaims one reader who says she has tried possibly everything imaginable (besides surgery) to clear up her face. "You can feel it working" when rubbing it on, and readers say the refreshing effect can be described as feeling "like your skin is breathing cool air." One reader said this "amazing" scrub cleans deep enough to remove makeup and sunblock, as well as diminish pores. "It works great at balancing out my skin," says another reader who gets dry, flaky patches. The scrub is "great at getting rid of them."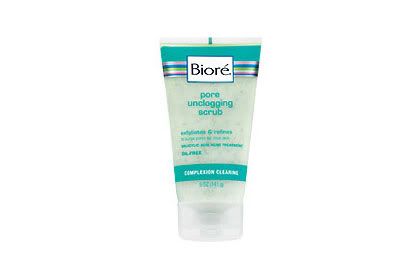 Hope that was helpful. See you soon!
BYE!