What's in my bag haul!
So this is my everyday bag or my working bag! even my everything bag. haha
Its a
Cath Kidston
saddle bag. If your not familiar with this brand just click their name there. They are famous European brand and their also famous for their accessories, their gorgeous fabrics and designs, clothing, bags and some kiddie stuffs too.
Anyway as you may notice my bag is not that trendy or fashion forward kinda bag, I chose this mainly because of its huge size, design and the material. I find the design quite chick and cute kinda like for a kiddie bag and at the same time functionality of the size. And another thing i liked about it, is the material used. Its not a cloth nor a type of fabric but its a shiny like plastic or synthetic material, i dont know what those are called and so sorry too i didnt got a shot of it up close but i like its type of material that wont absorb any liquid especially during rainy days that way i wont worry getting my stuff wet! cause i always tend to forget to bring umbrella's so that's a plus points!
And this is both a hand bag and a sling bag. But usually i use it as a sling bag.
At the side i always have my handy sanitizer by Bath and Body Works in "I love Boys" which i really do! ahaha i like the idea of putting it outside my bag so that whenever i held a money or something, i wont have to dive in to my huge bag and waste alot of time looking for this tiny sanitizer.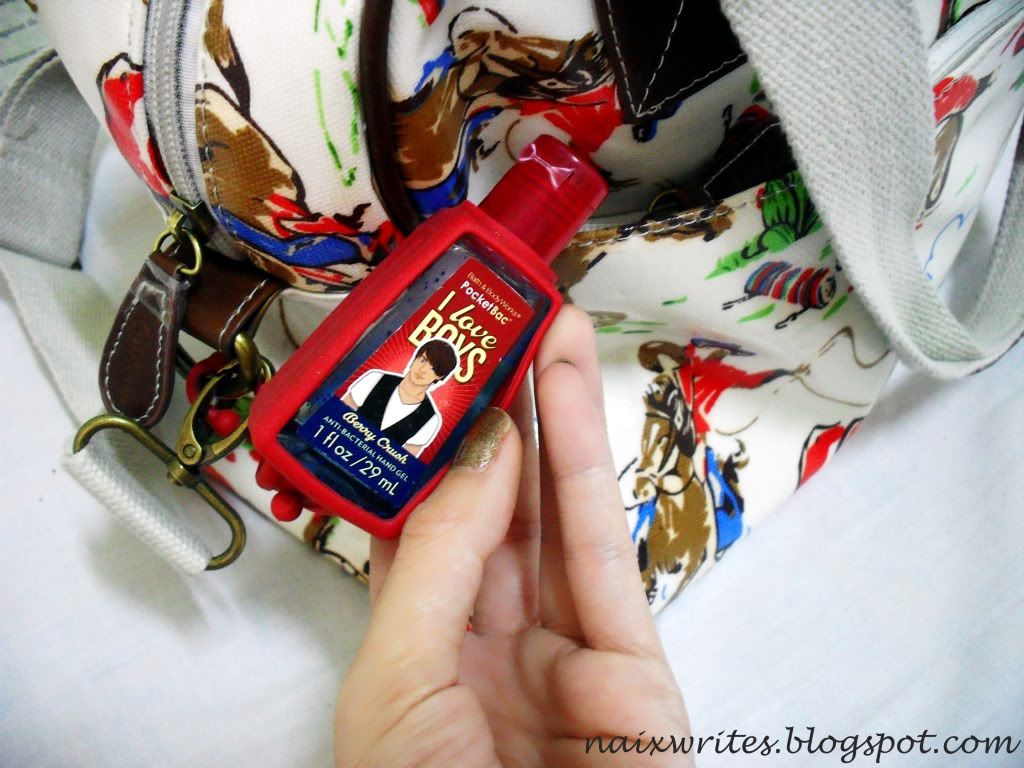 So this is how i organize my bag, quite spacious ha? and lots of pockets.
This are all i need for my everyday day ahaha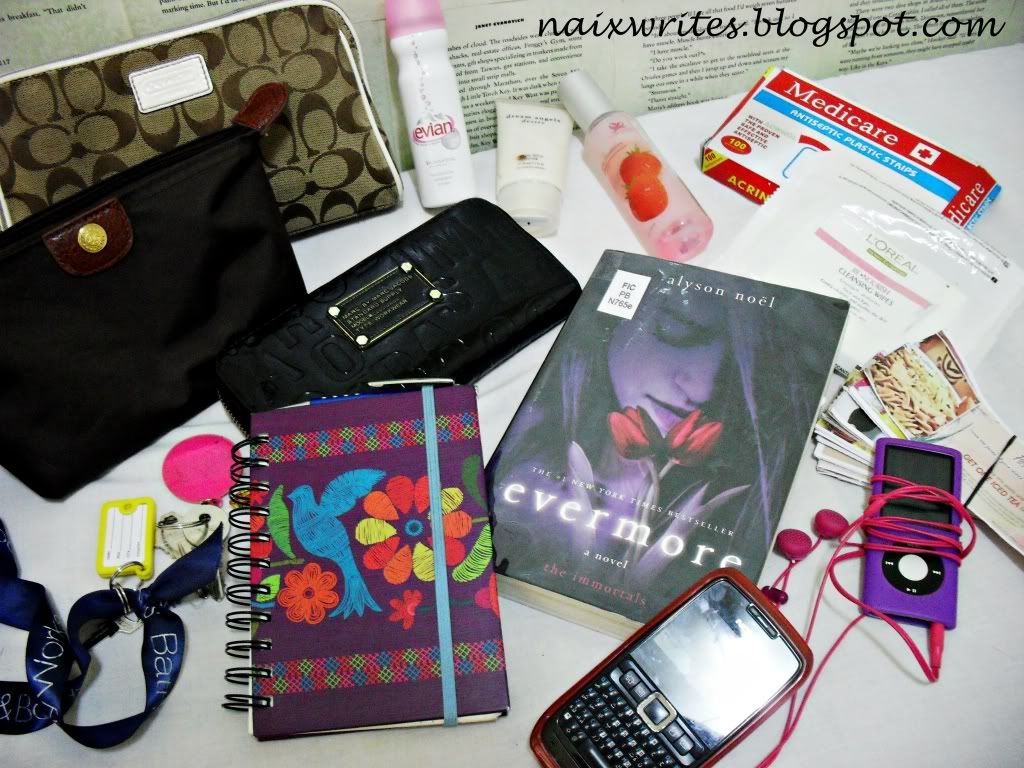 Which are:
1. My Make Up Bag
2. Charger Bag
3. Wallet
4. My Daily Notebook
5. Book.
Currently am reading Alyson Noel's The Immortal series. This is the first book which is "Evermore."
Having a book in my bag relieves me. It gives me something to do and at the same time it entertains me. Its like my pleasure time whenever i read something.:)
6.L'Oreal Make up Wipes
7. Band aids
You'll never know what will happen and am using this too for my feet in case my toes get a bit angry with my work shoes. You know what i mean.
8. My Belle De Jour Coupon's.
ALWAYS A MUST BRING! it save's my bucks!:)
9. Keys
To my room and my work.
10. Lotion
11. Body Splash
12. Facial Spray
13. Apple Ipod Nano 4th Generation 8gb
Pairing this with my pleasure time. A PUUUURFECT Combination!
I got this 4 years ago and still works fine except for my original Ipod earphones, i lost it. i felt really bad when i did cause they are the BEST quality headset i've ever used. Instead am currently using my Philips Bubble Earphones which lasted me for 2 years i guess.
These are all in my make up kit.
I wont be mentioning all of them.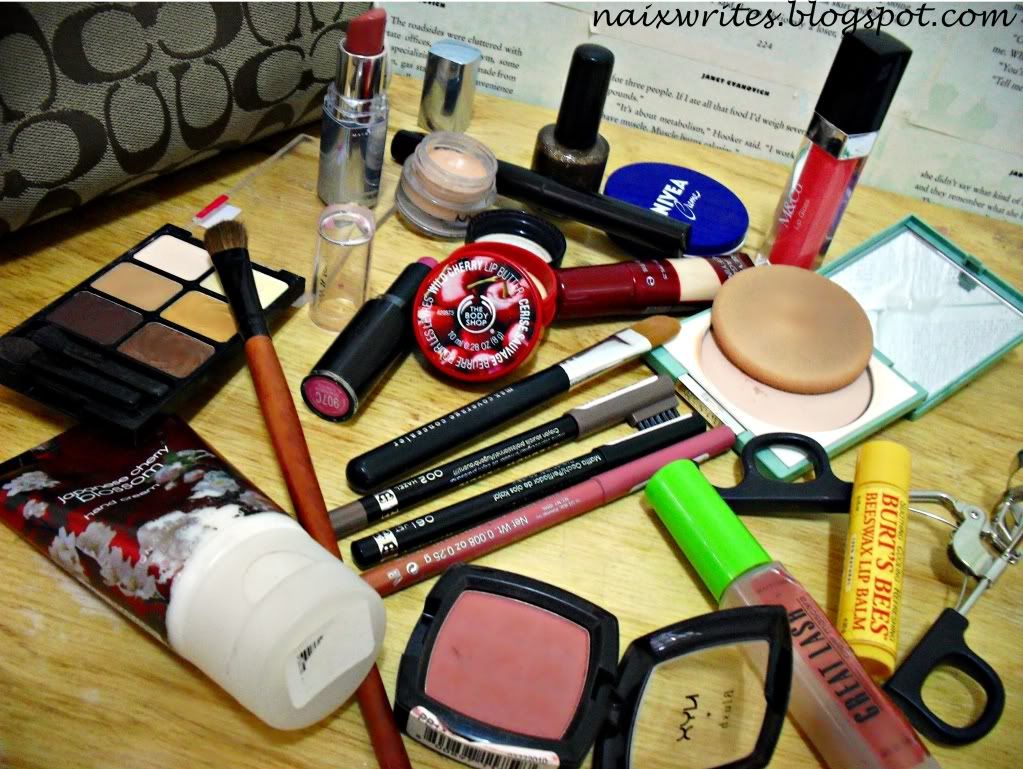 Every week i changed them or if i really really like a particular product i let it stay there.
i always bring 2 or 3 different lipstick shades as long as i have a dark, nude and a pink shade with me.
And you might be curious why the heck am bringing a nail polish? Currently am wearing that shade because in case of chipping i can easily hide it instantly!
And moisturizer's are a must! that's why am bringing my Nivea creme for my face and also my Bath and Body Work Hand Cream in my fave signature scent "Japanese Cherry Blossom" this is not only for the hand itself but also for my dried up cuticles.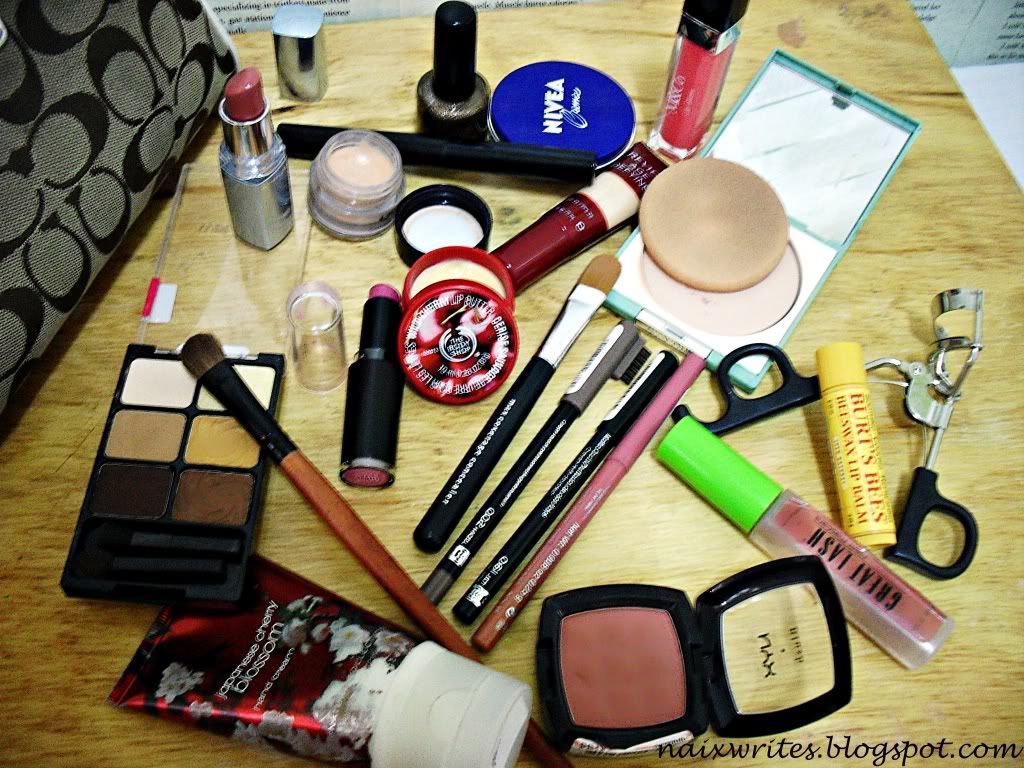 And inside to, I know it may be disgusting but ya! ahaha My Precious HOLY SEAT!!!
Cause when i feel i have to go, Trust me I'll DEFINITELY GO FOR IT! i dont care where or how but i really have to go. I hate the feeling of controlling it in. Its so uncomfortable for me. I HATE IT! ahaha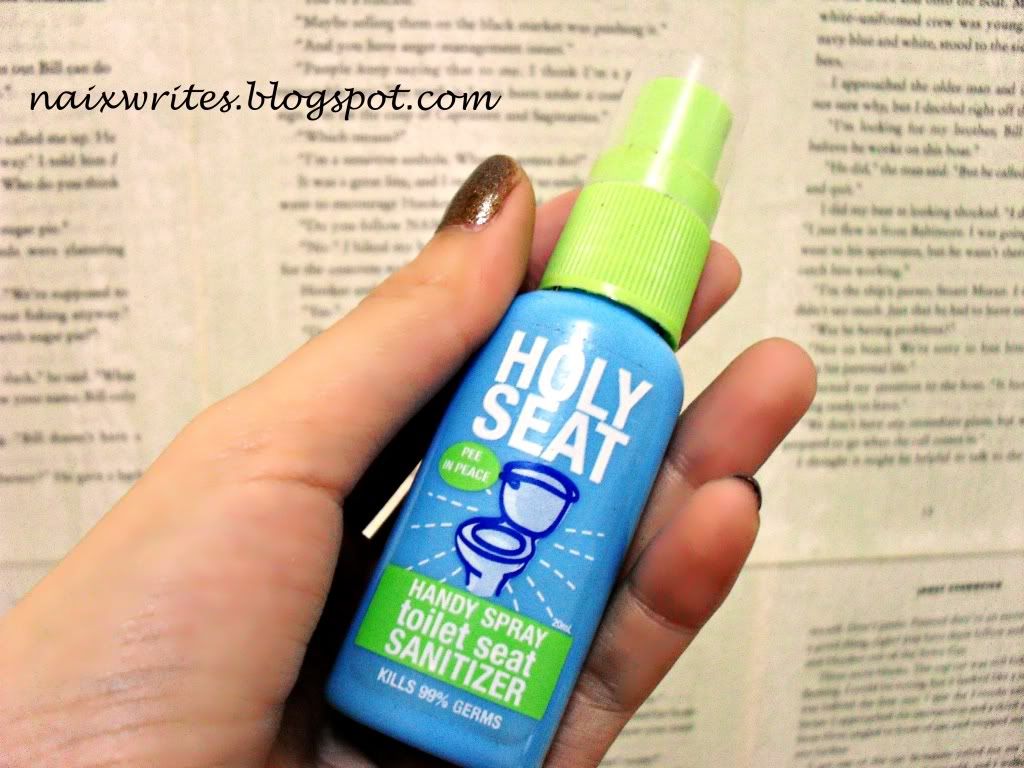 And of course a definitely after meal cleaning.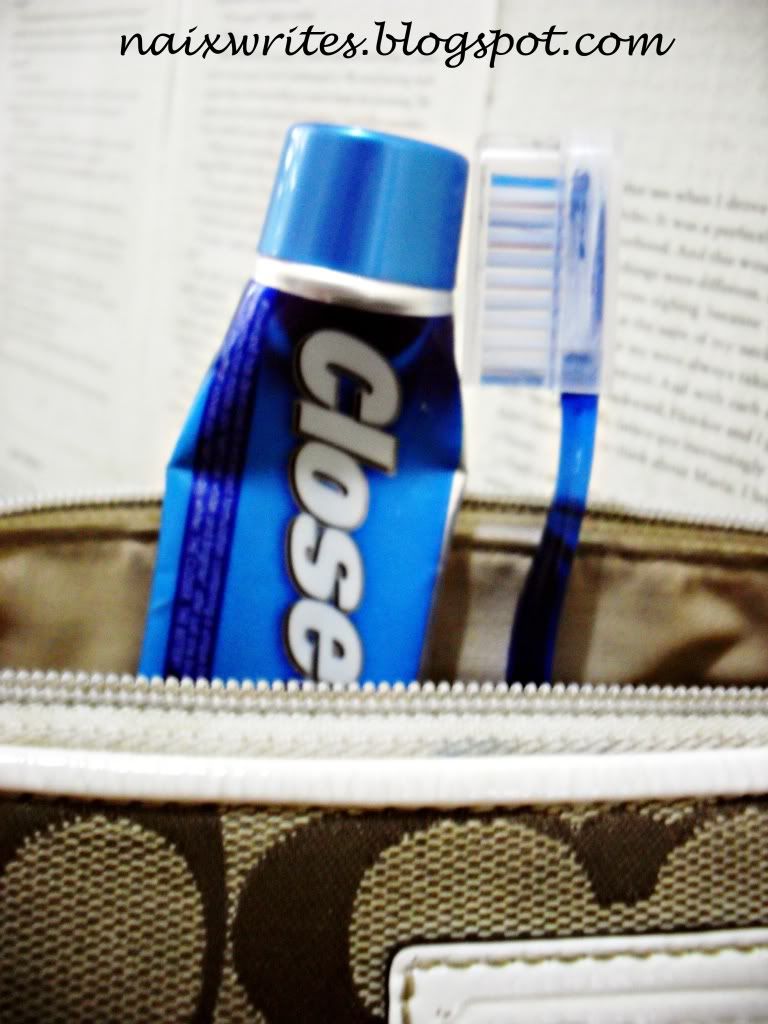 My Charger Bag/ iPod case
i know its a bit big for my iPod to be its case but its not only for that.
I always bring my charger with me cause i dont charge my phone or my iPod whenever i feel that the remaining bar wont last me this day, i have to wait for it to die before charging it again cause i learned my lesson. seriously. My phone and iPod i bought them with my own money and since i paid for it with my own sweat and hard work, I truly truly value them. Its like my reward to myself so i have to take good care of them, like their my own babies. And having their chargers with me i dont like the idea of just letting it loose on my bag with full tangly wires all over it cause its a bit messy as well as my earphones so i always organize them in my charger bag.
My Notebook!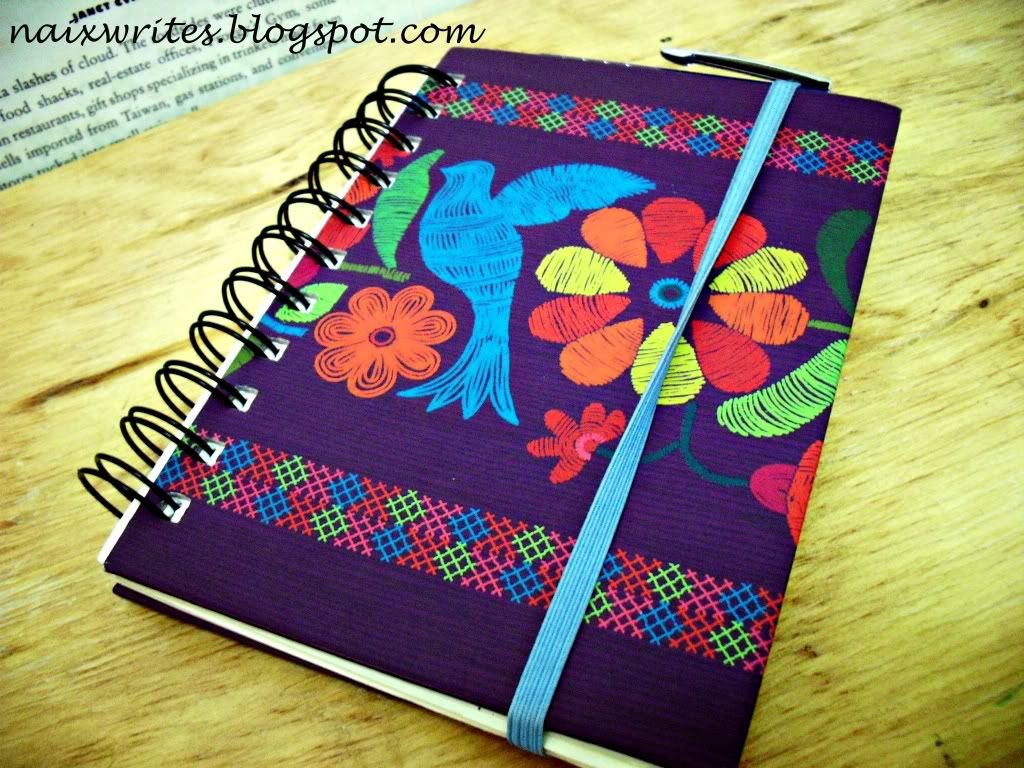 A notebook for the purpose of my never ending ideas. My head is unbelievably full of floating ideas. Different types like blog ideas, dates to remember or to do, wish list, grocery list, need to read book list, need to buy list, need to pay list and so on and so forth alot! I dont bring my Belle De Jour Planner cause this is some sort of my scratch notebook so that when i'll write in my planner it can be legibly done or written.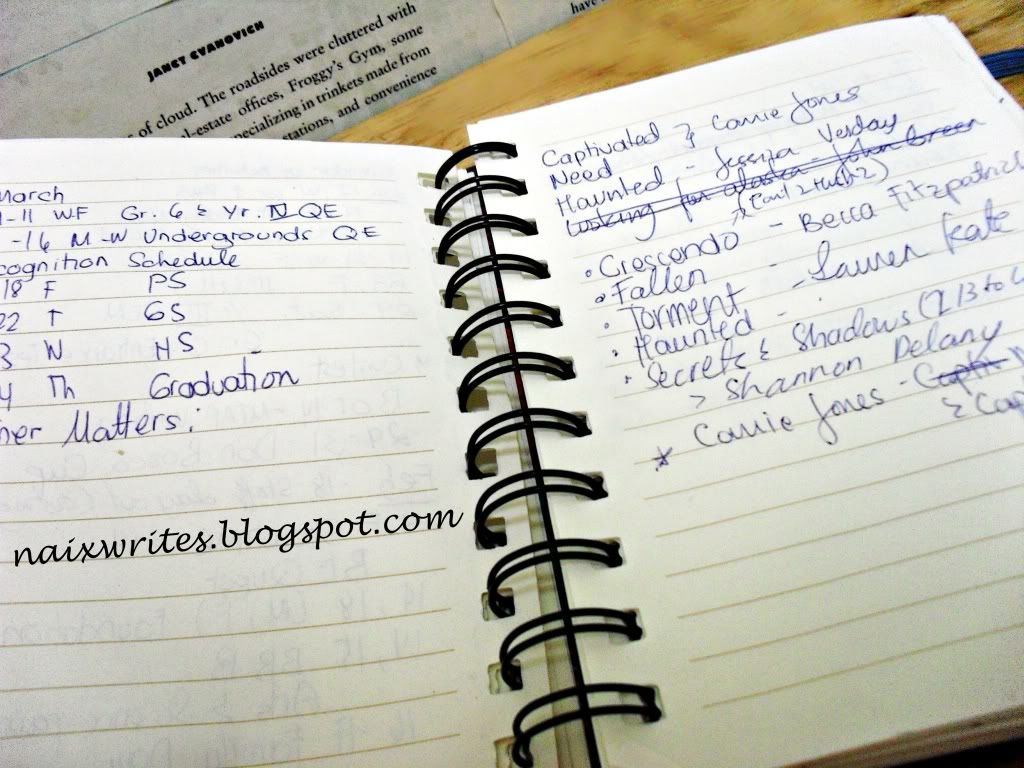 AHA!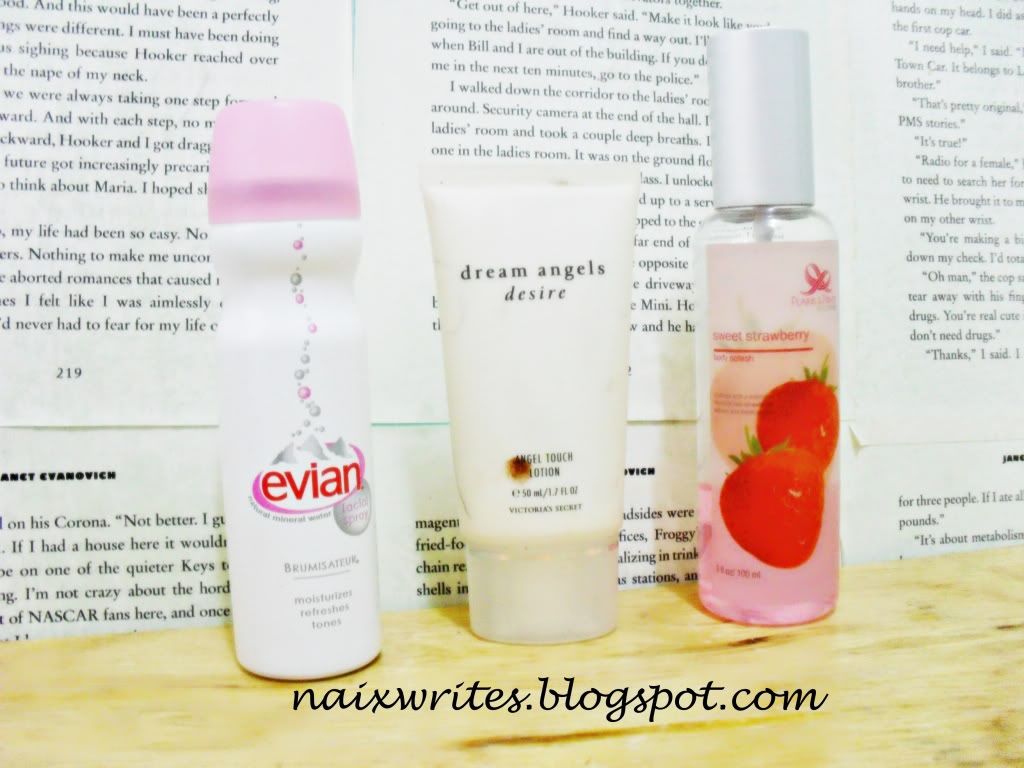 Evian Facial Spray
i know it might sound silly but its a mineral water in a bottle or a compressed water. At first i was really hesitant to get this cause its ridiculous! cause its like putting water in your face but its a mineral water that makes it expensive but after seeing and reading some great reviews about this product i jump in to the gimmik so tried it and hmmmm
use is for touch-ups. If I need to redo my makeup, I will pat down my oil then I will spray my face with this, take a makeup sponge and pat powder or compressed foundation all over. It holds the makeup to your face better Or after i did my makeup i spray this and let it dry to help moisten my dry face. I dont have anything bad to say, it's an ok product just still thinking if i'll buy it again if i ran out of it.
Dream Angel's Desire
VS Lotion
Mainly bringing this because of its size and scent ofcourse. I told you moisturizers is a must for me ahaha
Sweet Strawberry Body Splash
By Plains and Print
This was given to me, i dont like fruity scents. I really dont, im using this for the sake of not wasting it. And this was a gift. I feel bad if il give this away or not use it at all. and its a splash, body splash doesnt last long on you so i tend to really finish the bottle soon. I really dont like this aha
anyway hope that was intresting and bit helpful too in organizing your everyday bag.
thanks for visiting!
BUHBYE!!