Viola! another book series that i have been reading for the past month and a half. Before I have been seeing this book quite awhile and i didn't pay too much attention to it until i've notice alot of teens and some young adults are reading it. Even my little brother did which is a bit
embarrassing
for me cause am the older sister and i should know more what great books are out there and i should have first read it before he does. aha anyway this intro is a bit long huh? SOO Without further adieu......
Book Review Haul of The Month is.......
The Mortal Instruments by Cassandra Clare!!:)
City Of Bones
City Of Ashes
City Of Glass
I had begun reading this laying down and drinking the words in steadily but before I knew it I was sitting on the edge of the sofa and forcing to keep up my eyes focused enough not to move too far ahead. I promised myself I wasn't going to write a spoiler review though I
really
wanted to. Without giving spoilers I can't stress how much a certain line did this or what took me by surprise but y'all are just going to have to read it to feel and see what I felt.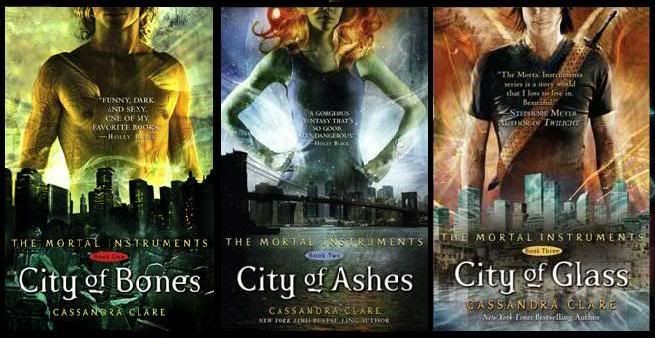 I'll do my best to make this review a spoiler free for those who haven't read it or planning to read it. At first i really wasn't intrigued about this book, solely because of the covers. If you must know, book covers influences me to convince myself to buy it. ahaha i know, stupid right? As the saying goes, Dont judge the book by its cover. I really have to remind myself that, In terms of purchasing a book of course! so by the looks of the cover its very manly, im referring to the first book which is the City of Bones which for my personality wouldn't dare to have a second glance nor even read the back part or synopsis. I felt that it's like another Hunger Games Book type so i wasn't into those kind of genre if I may say:) But i was totally wrong when a few friends of mine from the school i worked at suggested that i have to read this series cause it was great and all that jazz so i gave in especially my brother has the 3 books of it and boy did i really read those overnight especially the book one. I got hooked to it. And this wasn't really the usual novels i indulge myself with mostly are romantic paranormal types but this do have romance in it but most of the story were action,suspense and a bit thriller which surprised me cause i loved it. This is not just a simple read unlike the others cause of the twist of story Cassandra did and at the end it indeed got me into believing what it made me first believe it really wasn't.
The series has a weird settings but its still on earth mainly New York and they are in a world where ofcourse there is humans which were called Mundanes an average joe type of people that doesnt possess anything and dont have any idea that they are not alone in the world. They shared this world with the Vampires, Werewolves, Demons, Angels,Faeries, Warlocks and Shadow hunters. Now, Shadow hunters are like the police of everything else in the weird world. They keep the peace from Demons, Vampires Faeries and Etc..
The main story which it all started was about a young girl named Clary Fray, who believes she is just a typical 15 year old. Until , one night she is hanging out at the 'Pandemonium' Club with her best friend Simon, and she sees something. Something no-one else is able to see. The Mortal Instruments takes us through a world of Demons, Warlocks, Faeries, Werewolves and Vampires alike. It takes us on a journey into the underworld of New York City where hot, sexy demon hunters prowl the night.
The Mortal Instruments series is for teenagers and adults alike. It has everything a good book should have. A great plot line, fantasy, suspense, romance and a twisting turn of events thats so unpredictable that you won't be able to rest until you have turned the final page.
I really thought that this was just a 3 book series but Cassandra Clare released another continuation which really excites me and that was City Of Fallen Angels. I am so thrilled!!!!
And Great NEWS! they have officially confirmed that The Mortal Instrument Series are going to be on screens! yes! they are making it as a movie and two of the main character cast are:
ALEX PETTYFER
as Jace Wayland:) im so inlove! but just an update he turned down the proposal of him playing the part cause he was wanting another role which will have a conflict of shooting with this Movie and the movie he wanted soooooo i hate him so much!;( really hope he'll change his mind.. Praying so badly for that!
as Clary Fray:) aka H.O.T!
So wont say no more, I really really recommend this book if your into a action, suspense type and i assure you, its a very different story from what your thinking! sooo watch out for my next review and see you!