So recently i have been looking for a great bronzer that i was wishing i can purchase soon and of course i can easily get my hand on here. Either highend or lowend it better be a great bronzer. And after seeing and reading reviews of different bronzers that were recommended by people in the make up community, these list or my "wish list" stood the most votes or most mentioned as THE bronzer! here are they at random order.

NARS LAGUNA BRONZER

Review about this from someone:
I can't believe I'm saying this, but I believe this is my HG bronzer. I haven't tried a substantial number of bronzers, but Laguna works amazingly for me and I would definitely repurchase.
My skin: Pale as a corpse (NC 10), hypersensitive, acne-prone, and combination.
Application: I don't use this as a contour, but as an all-over wash of color. I apply in the "E-3" formation with a big, fluffy brush and blend.
Color: Surprisingly, this color works wonders on my paper-white skin without looking too orange or muddy and just gives me a touch of color. I usually hate sparkly face products with a passion, but the sparkle in Laguna seems to just disappear on my skin. Lord knows where it goes, but I've never had a problem with glitter-face or accentuated imperfections.
Value: You get an amazing amount of product with this bronzer- I've had mine for a couple years and have only made a small dent. A bit pricey, but I believe it's worth it for the quality and huge amount of product you get.
Overall, this is a great everyday bronzer for lighter skin tones and despite the price, I plan on repurchasing when I run out.
ILLAMAQUA WRITHE BRONZER
Review from someone:
Illamasqua Writhe Bronzing Powder (£20.00 for 0.32 oz.) is part of Illamasqua's Body Electrics Collection, but it's only available overseas as just Writhe. In the U.S., Sephora carries Illamasqua Glint & Writhe Bronzing Duo
($27.00), which isn't necessarily a bad thing, to be honest. The idea of ever using a single product so much that I'd need an entire compact of it seems unlikely, so sometimes a duo let's you play with two shades for the price of one. (By the by, Glint is a peachy highlighter kind of shade.)
Writhe has a very pretty, burnished copper-bronze look to it. It has a slight metallic gold shimmer-sheen, but it can be applied very subtly for a softer look. It's nice as a bronzer or as a blush. I didn't find it too orange or red, though I think this definitely suits warmer skin tones best. You can also layer it for a more intense, obvious bronzed cheek, too. It is particularly shimmery, though, so those looking to use this all over the face may find it a bit much for day time.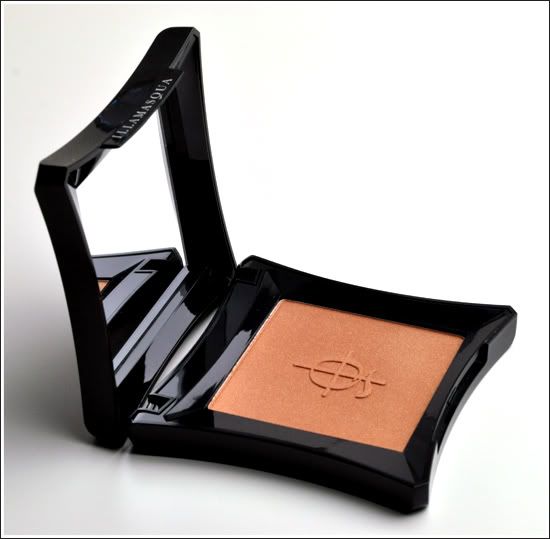 BENEFITS HOOLA BRONZER
Review from someone:
My absolute favourite bronzer!
For reference I have a very neutral skintone which is difficult to match products with as things are either too pink, too pale or too yellow. I usually use anywhere from NC20 - NC30 in MAC makeup, and the closest match for my skinetone that I've found so far is Real Sand 08 in Prescriptives Virtual Skin makeup.
I've tried a lot of bronzers, and am never really all that happy with them because of the skintone struggles I mentioned above. My latest was Laguna by Nars, which I've used for the last 3 years as even though I wasn't entirely happy with the product (it was a bit too pink for my liking), the compact was large and lasted a long time so i just stuck with it. It finally ran out so I started the search for a new bronzer. I am a Benefit lover and have started converting my makeup collection from Mac and Nars only to predominently Benefit, so I decided to search within this brand for the bronzer, and after reading all of the Hoola reviews, I took the leap and bought this as it was only $16 NZD.
It's a very neutral bronzer, and applies very sheer, but is buildable. It's also matte, which is perfect for someone like me with extremely oily skin (I know, I won the genetic lottery!). I really cannot rave enough about the colour and price, and I will definitely be purchasing Hoola again.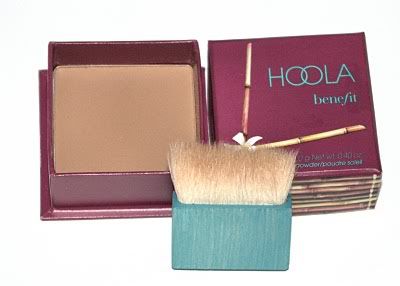 BOURJOIS DELICE DE POUDRE
Review from someone:
I've been looking at reviews on mua for a good low end bronzer as I dont want to pay over the odds.
I was either going to choose rimmel-sun bronze, nyc bronzer- sunny or Bourjois- Delice de Poudre. I decided to go with this one because the packaging is so cute, it doesn't look cheap and it smells lovely; i'd describe it as chocolate, orange and cocoanut mixed together!
I paid £6.99 for this at boots which i think is quite cheap considering quality of this product! I had a choice of three colours but chose shade 52 which was the darkest one out of the three. I do have quite pale skin with a warm undertone but i use fake tan quite often so i though this shade would be best for when i'm pale and tanned.. I also chose this shade because it looked like it had the least orange out of all the shades.
I've been wearing this for the past week so far, i apply it to my cheeks, chin, nose, forhead. this shade suits my skin perfectly and i dont need to use alot of the product. it only has a tiny amount of shimmer which i like. This is the best bronzer iv'e ever tried!! love it!! :)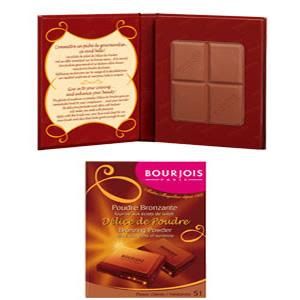 TOO FACED CHOCOLATE SOLEIL
Review from someone:
I bought this bronzer because of all the good reviews on MUA.
I have to say that I am not unimpressed. This bronzer is completely matte. It also does not have any orange tone to it, and is therefore very natural looking. Perfect for all-over or contouring.
However, I find it is VERY pigmented, and you only need a tiny dab into the pan when you put it on (I am an NW20 for reference). IMO, I don't think this would work for those with very pale skintones as I think it would just be way too dark.
The packaging is nice and sturdy, has a big full mirror and clips shut tightly. I also do enjoy the smell of it. I can see how the smell might be repulsive to others though.
I've said I will buy it again, but I'm not 100% sure if I would because I'm not sure if it is worth the price. I think there are some drugstore bronzers like the Rimmel Natural Bronzer that are comparable and are less than a quarter of the price. I also want to try the Cargo matte bronzer, which is about 3/4ths the price. But I'll have to see how I feel if/when I finish it!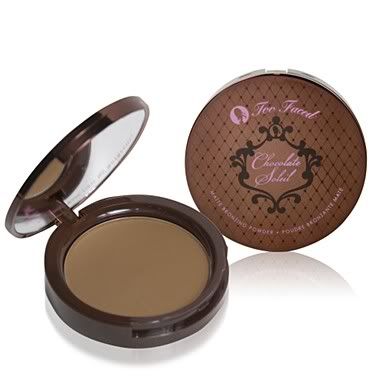 So if you noticed most of the bronzers that i chose were matte finish. I prefer matte bronzers than shimmer bronzers cause i dont like to use that contour my face i might look like a disco ball and it might be fake looking contoured face so ya! thats all from my wish list bronzer hope that was helpful and talk to you all soon
BYE!