Its Sunday, so i have been Googling things and i bumped in an Article plus with a video of Beyonce strutting her kick ass new video "Move Your Body" which again made her Magic happened! With support to Michelle Obama's fight against childhood obesity she made that campaign into a more fashionable and cooler for teens out there struggling with obesity:) The pop chart diva revamped her 2007 hit "Get me Bodied" and transformed the new version "Move Your Body" in support of the first lady's "LET'S MOVE" healthy eating campaign. Way to go B!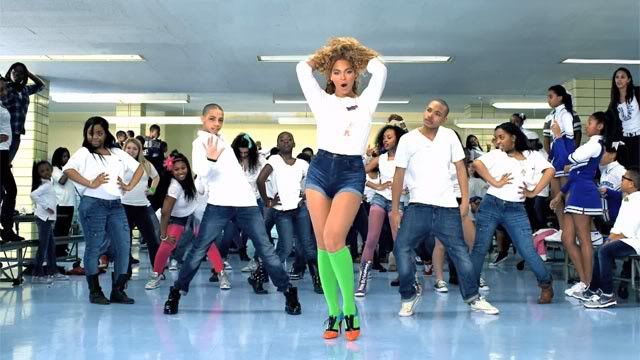 FIY without any special effects, costumes, guest celebs, B still turned this new vid in a phenomenal work! In this video B showed up in a short short, green knee hight socks and that impossible heels storms in a junior high school cafeteria and leads the groups of students to through eight missions that involves rocking dance moves. Which i admit made me move! Gaad! after a minute made me wanna seat down, watch and drool aha
Funny part is
3:19 Beyonce doesn't know her lefts and rights. Aha no offense:)
And leaving you with B with some few words:)
This was an indeed great video i had fun watching.
Lets Help, Lets Support and Let's Move!