ELF ELF ELF!!
Surprise Surprise! Another Great buy from ELF!
Another late blog, so sorry.. but il get straight to the point.
I got this last month, The ELF Matte Finisher and i used this twice already cause i was a bit skeptical with the thought of MATTE finishes cause i wasnt that much used to the looks of it. But since ive seen it in Facebook alot of online store's where sporting some of this matte finishers and most of their advertisement's were quite alluring and sexy that i went searching again for this in my cabinet. And started to use it again.;)
OPI had a version of this way way back but i didnt get it cause you know OPI are quite not worth the price. Just opinion. So Thank GOD ELF released one of their own for a cheaper and worth it price!:) What i like about ELF is that they look after their buyers and one way of proving that are the features of each nail polish it gives such as this at the bottom.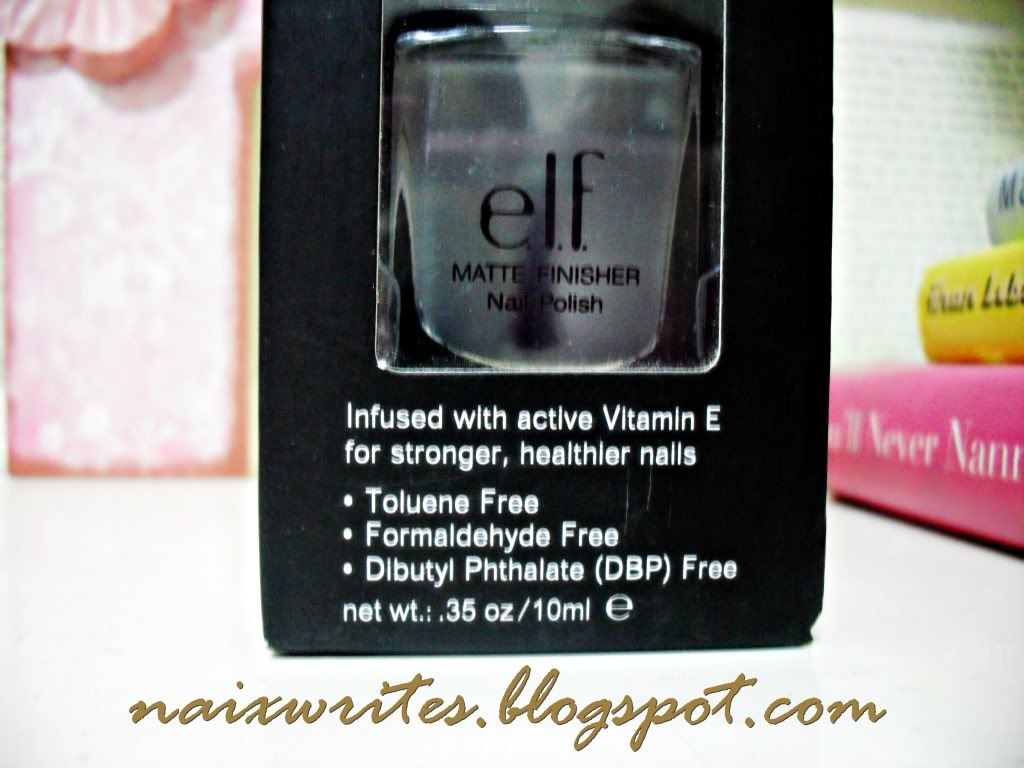 Another plus points are! They dont test on animals AND they support charity. Way to go ELF!:)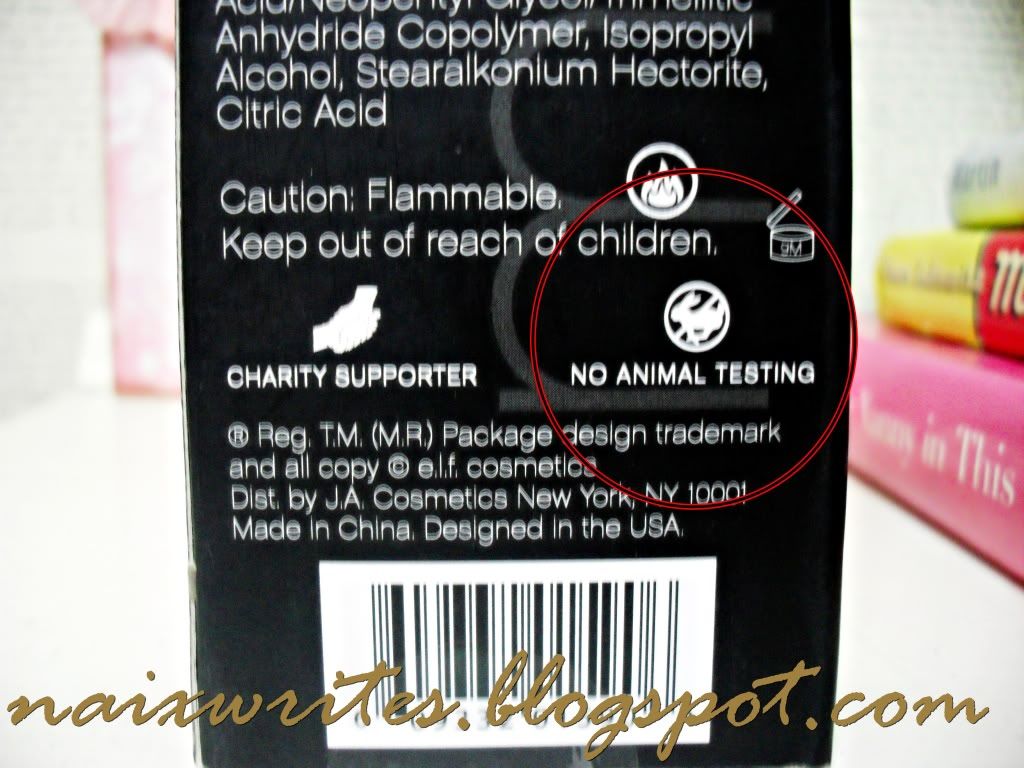 Now, On with the product. Packaging, the usual ELF packaging no harm there but as i noticed while i keep getting these nail polishes t
he problem is that for most of my the polishes I own from them the top of the bottle (the part you hold when polishing your nails) DOES NOT align with the bottle it self when I twist it back on. I
have no idea why it does this but it just does.
Nothing to complain over because it was only cheap and it was an easy clean up.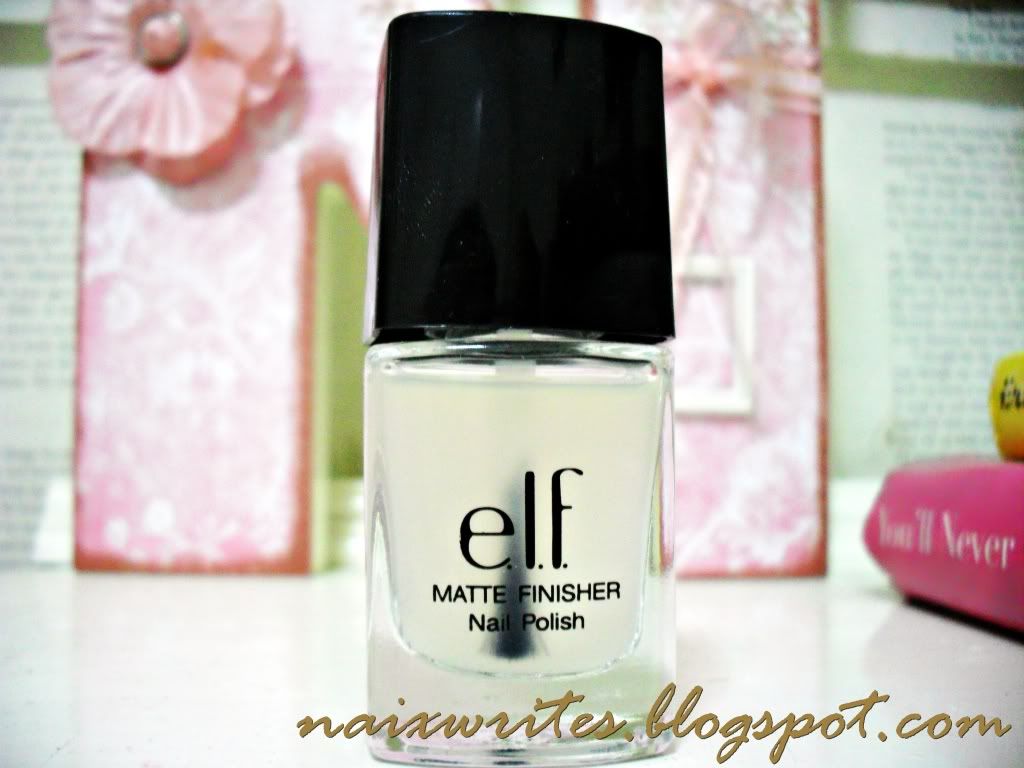 This is how it looks inside, a opaque liquid..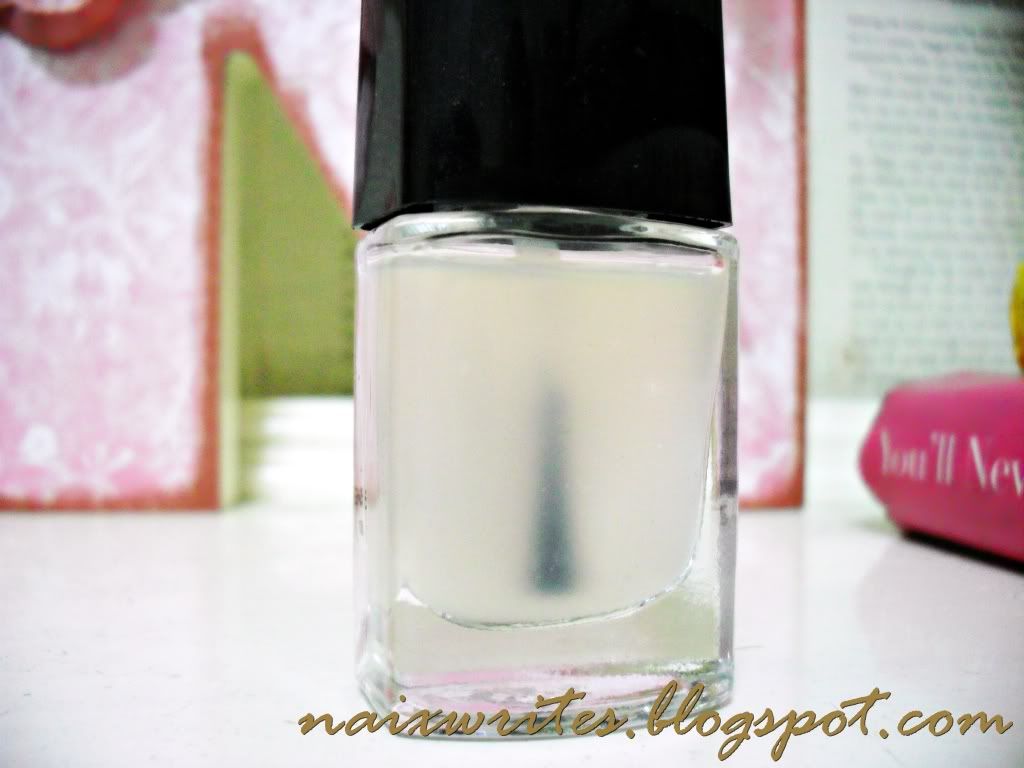 Another downfall it builds up crust at the top of the bottle which irritates me. I find it unhygienic to have. hope my camera justifies it but i guess it cant.:( sorry..
The brush i dont have any complain about it. Its perfectly fine for me. Doesnt bother me at all.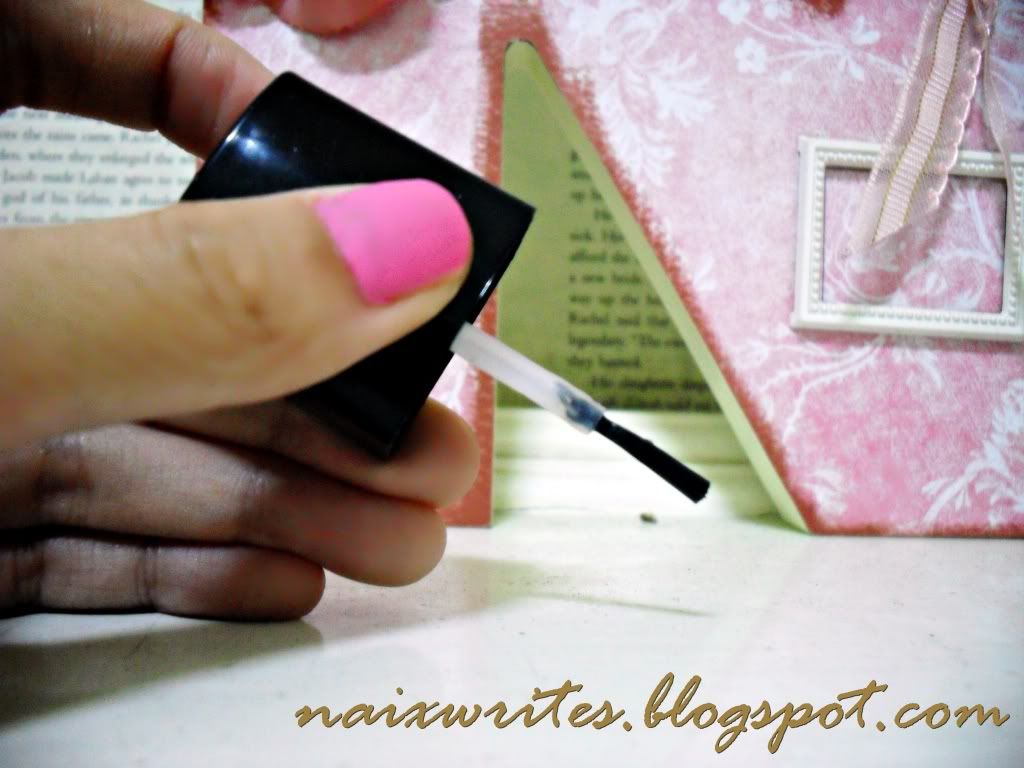 To test the effectivity of this product and to show it works perfectly worth the OPI il use another ELF polish which is Bubblegum Pink cause its spring/summer neon colors are great to use.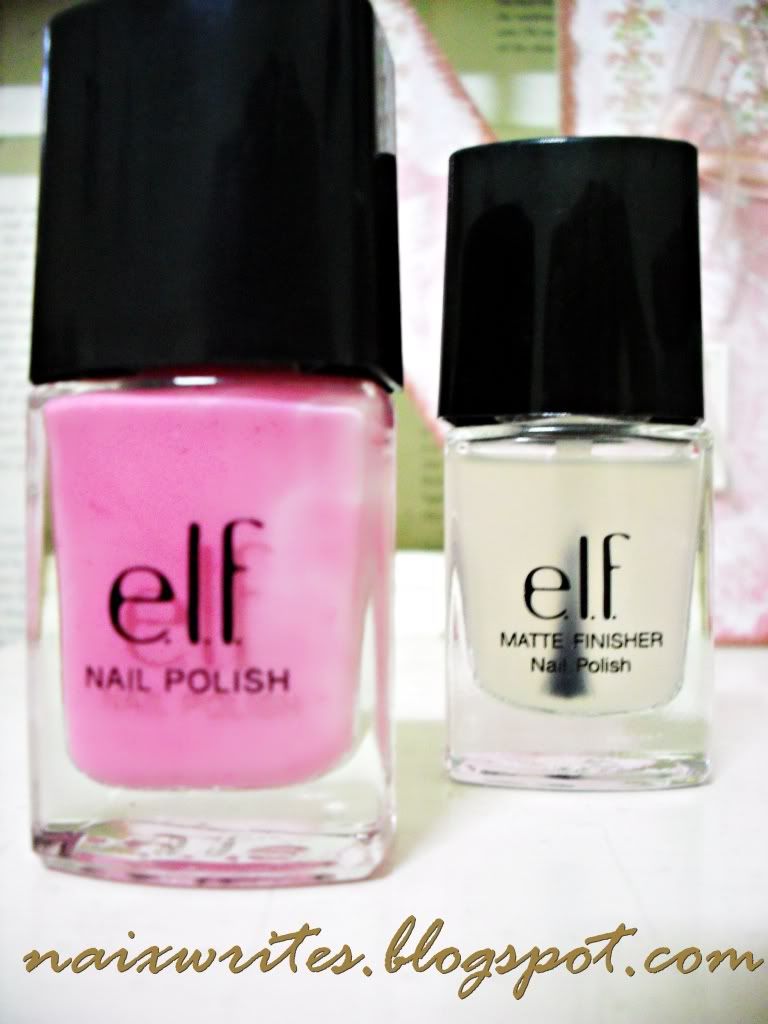 Here it is applied without any top coat. Just plain Bubblegum Pink:)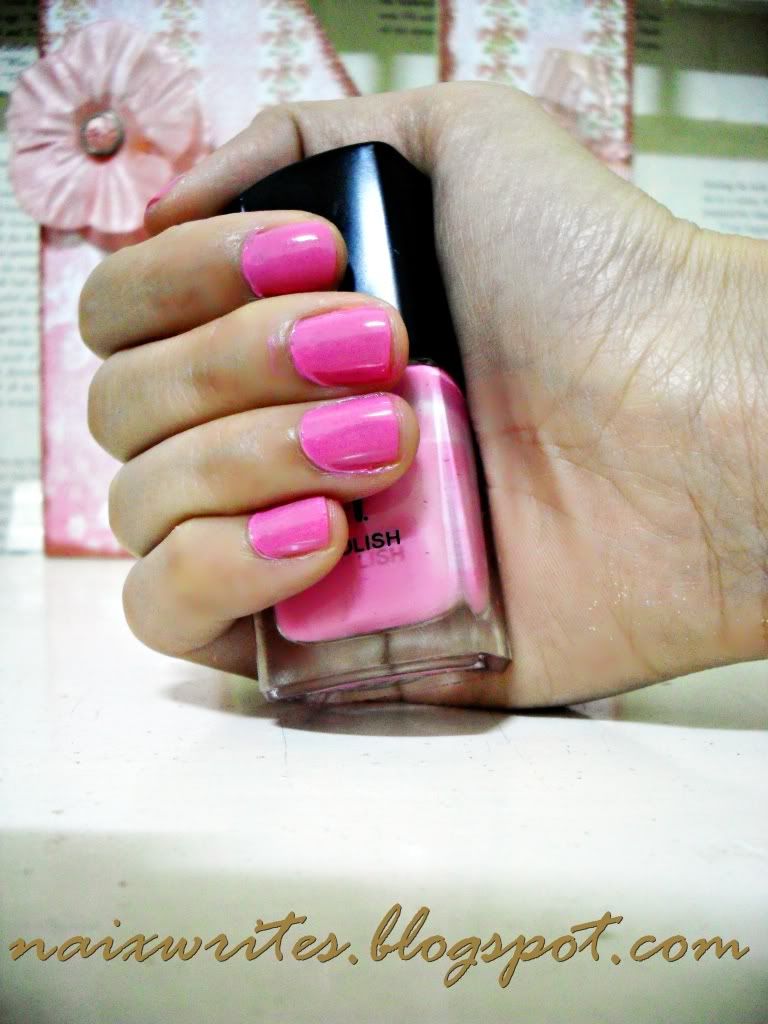 And here it is with the ELF Matte Finisher.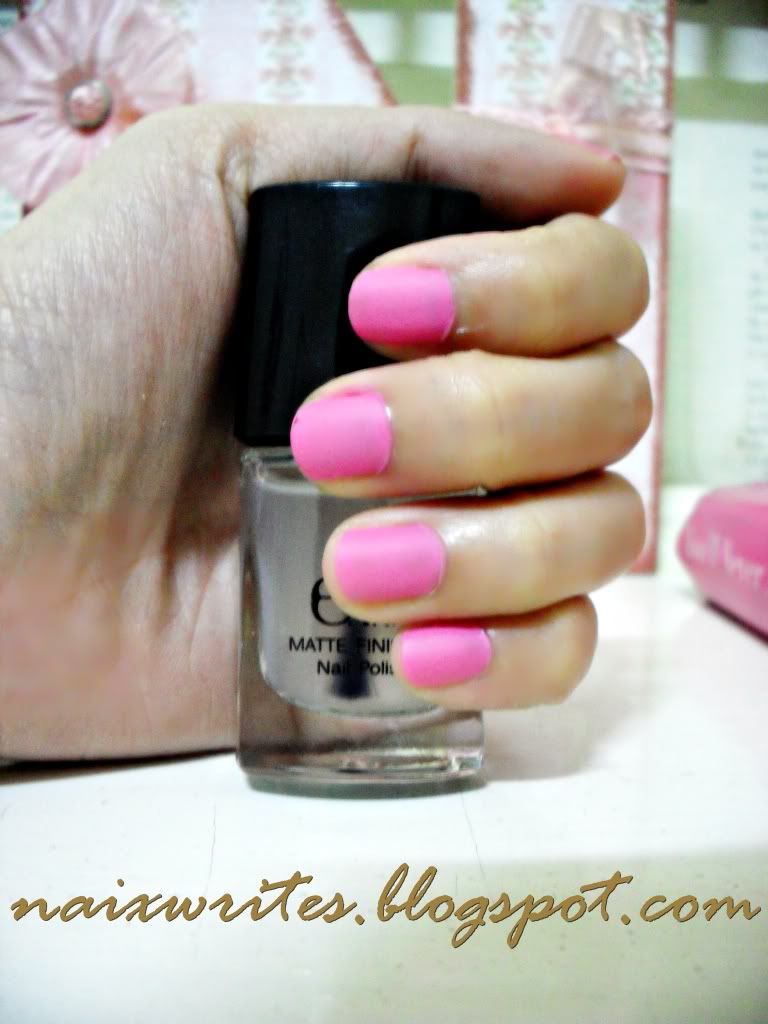 Compare the two:)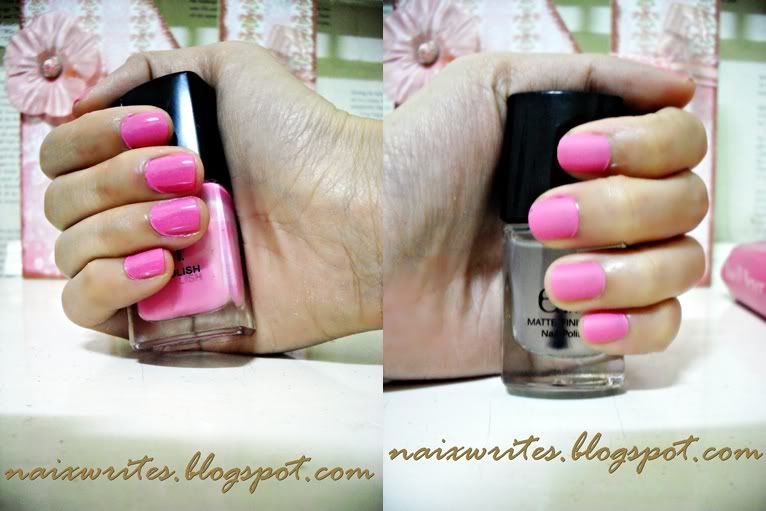 My review, the feel of the product is very soothing cause if the coldness it brings to my nails. YES! its cold upon application which i like! It dries up quick which i need for a top coat to be cause i need to move fast. I dont like sitting duck waiting for just my nails to dry up. I like how it looks now cause its different and unusual which sometimes is great and its cold to the eyes which is a good thing for me during this harsh heat weather And one last thing is that it doesn't chip that easy which was my problem with some of ELF nail polishes is that they chip out easily but when applied with this it stays there for quite a time. So overall! GREAT JOB ELF! I totally recommend this than getting a much expensive version of this!:)