Another review coming your wa:)
I dont own that much L'oreal products except for their hair treatments and stuff but when it comes to their cosmetic line i dont have alot. No offense to L'oreal Cosmetics i dont see that much reviews or raves about their line, ya..or maybe am just looking at the wrong places i guess but there are some that raves about one of their foundations and their infallible lip glosses which i havent got a chance to try (lip gloss) but hopefully soon i will.
And because of that I got 2 goodies from L'oreal. One is the Hip Flawless Liquid Makeup and the other one is the True Match Super Blendable Bronze low.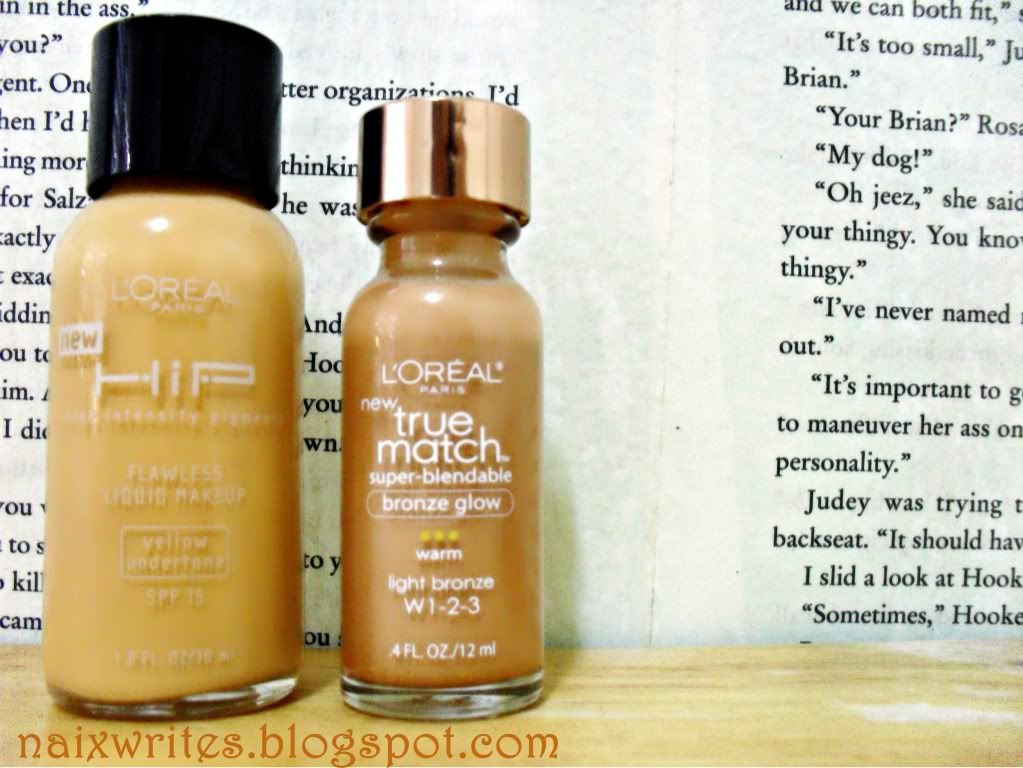 I picked up Nude and light Bronze for my shade.
Lets start from the packaging as usual. These types of bottles is what i call the "Pro Disaster Bottles" cause i can knock these bottles easily like being a clumsy girl that iam i can drain these bottles in a week of usage. aha im not crazy in love with this packaging but i like the size of it cause you can carry them around and they are just worth the price. I mean Ebay price for a 1.0 FL OZ and .4 FL OZ is too much for me:)
L'oreal Hip Foundation, I read alot of good reviews about it and again got sucked in the hype of it and luckily i know a Ebay seller that sells L'oreal for cheaper prices and unfortunately most of the shades she has are not that quite enough and if in reality this foundation has alot of shades. They have separate shade for the cool hues and warm hues which i love L'oreal for that. Beaming of endless choices for shades that will surely suit every skin tone. Unlucky me i got to choose from a limited shades only cause of lack of shades available and my universal pick always when i haven't seen the shade up close is Nude and it always suits me but i don't encourage that thought to others cause every cosmetics company has different color scheme for nudes. I just do that cause i mostly hit the nearest to my skin type whenever i pick nude even thought i haven't seen it swatched.
But that theory of mine failed me with this pick. Like i said i have my clumsy side and sometimes i dont read labels which made this a failed foundation for me. It didn't suit my skin shade cause of the oozing yellow undertones this has which is stated on the front part of the bottle that i didnt see before. CLUMSY ME!!!
I dont know if you can see the yellow undertone to it and i know i shouldnt make foundation swatches in my hand cause it has different shade from the face but even though i still asure you that i look like a Umpa lumpa with this on. This does influence my review a bit because of the wrong shade i got but i just used this once and after that no more turning back. However this is still blendable and recently i found a way back to it cause i learned a trick that can be used to mellow the yellow undertone down. So watch out for that blog am gonna post soon especially girls out there that has a same problem with their wrong pick of foundation shade:)
My opinion about this is that it is a full coverage type of foundation. I like that cause am a full coverage kinda girl. The scent, its not too strong but it has this latex scent to it which doesnt bother me at all honestly. Its a light weight foundation even thought its full coverage, which suprised me. Downfall of this is that it doesn't wear that long, if your sweaty and oily i dont recommend it. Alot complaining about the staying power of it so oily sking beware. but all in all i still give this a WHOOOOPING!!!
Another risky buy, i bought this with the foundation as well cause i wanna make my shipping fee worth it so i got this without reading a review on it and this is by the way the L'oreal True Match Super Blendable Bronze Glow in Light bronze. So you can see in the bottle there are specks of gold shimmers into it or glitters i must say. So i suggest shaking this well will be better before use.
As you can see it a very light bronzer especially am a bit pale and i dont want that much dark bronzie look sometimes.
here it is blended. If you can see a bit dark patch in my hands that it.
I must say that this is a

I love everything a bout except for one. The FREAKING shimmers. it annoys me. Too much glitter can make my head look like a disco ball. thought cant see the shimmers in the picture but upclose you can definitely see there is.I have to keep this product into minimum to avoid that from happening other than that its all good.