Last May 31'11 I was invited to do makeup for a fashion show for the Trumpets Model's and Of course i said yes! I willingly agreed and It was my first time hired as a real makeup artist and it would really help my career in this field to learn and know more people that will help me make this as a profession.
Anyway, they instructed us to bring only tools like spatula's, mixing plates, make up brushes for this event for they will be providing the makeup's that we will be using which I think would be a challenge for me. And of course Business Cards a must bring!
4 days before this event started I though of things that I should be bringing especially I was new to these types of things. I searched some famous Makeup Artist's on Youtube just to see if they have any tips on starting and preparing for a Makeup event. I've watched and learned alot of what to expect and what to do and etc.
1. First thing I did was look for containers. For my sponges, Qtips, cottons, wipes and etc. I dont have containers for that especially travel friendly cases. I usually store my sponges in my oldies glass jar which I LOVE! But i cant bring the whole jar with me!
duh!?
So bought this in Japan Home Center for only P66!
Its a small
F
ood box
that has a divider. Which is perfect!
Plus the clasp close's really tight which made me happy:)
2. Tweezers.
I dont tweez my brows or anything thats hairy, for the record. I find it painful for me. I bought this for false lashes. I learned from the Pixiwoo sisters that using bare hands for applying someone else's false lashes is not hygienic! Especially its near the eye's which is a sensitive area. We don't want our clients getting infected with anything. Cause i usually do my lashes with my own bare hands. Ooopsies.:/ But I LEARNED! :)
Got this for P98. I forgot the brand sorry!
3. Brush Roll's
Ok, I know that every makeup artist has this VERY basic tool. The brush roll. Well I wasn't planning on getting a brush roll cause I know i have one. I kept it somewhere cause now that I'm placing my brushes on my glass brush holders I or people here kept it. But when I was looking for it again, I can't seem to find it and of course got nervous cause that means I have to buy another set of brushes to be able to get a brush roll! Means I'am gonna be spending P1000 plus worth of brushes just to get a brush roll!
So went to my trusted Ebay suki! Where i basically get everything and saw this
14 pockets Brush Roll's
and immediately clicked the "BUY IT NOW" button. It was pretty much cheaper than I thought!
P250 + Shipping fee 100= 350
Got 2pcs of 12 pockets brush roll plus a travel size brush roll PLUS a free sample of Coastal Scent Mica Powder.
As you can see, I dont usually buy brushes that are in one set. I just bought a one set brushes one time that's why I only have one brush roll but still I lost it. Such a waste.:c I usually buy brushes individually. Cause I wanna know and get what specific brushes are good than getting a set that you dont know if everything works for you or maybe not all are good. So being practical I buy and get only what is good from a specific brand.
And I love the colors too and its satin made. Speaking of made they were cheap cause I think they were hand made brush roll which fascinated me. I wish I had thought of that! Pretty cool idea.
And the free sample of Coastal Scent Mica Powder.
This shade is Cellini Yellow.
Here it is swatched.
I dabbed some lightly on my hand. And as you can see how pigmented it is. Very impressive.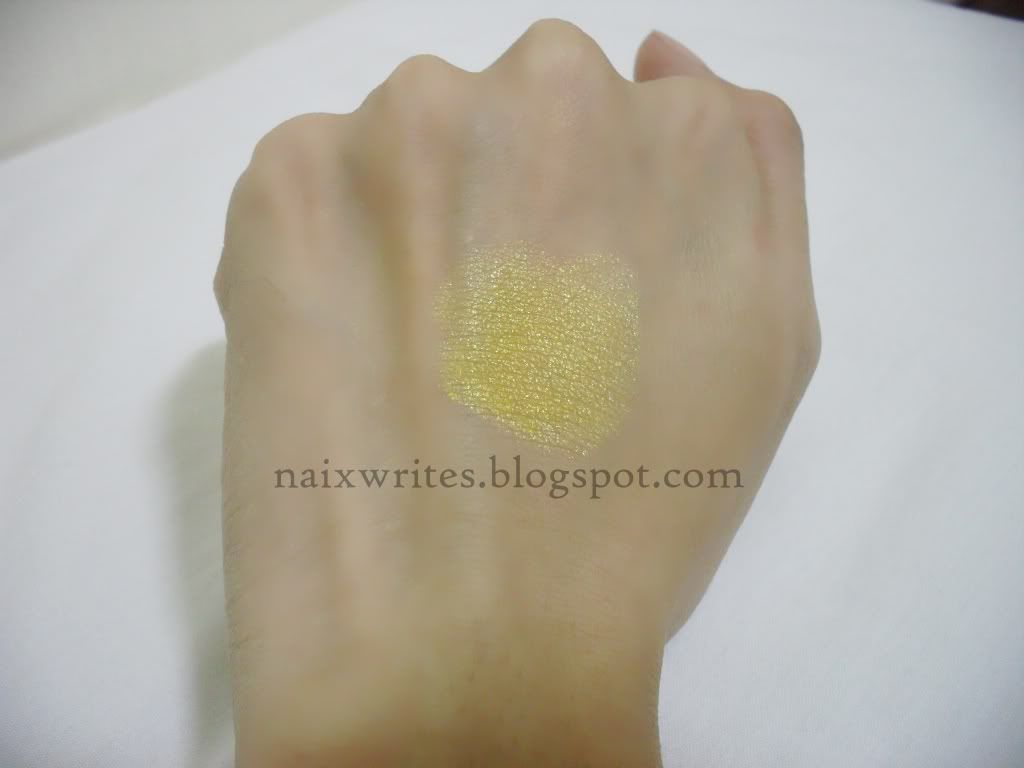 4. Business Cards.
From all of these items this was one that got me really worried cause I needed this which is very important if your serious in getting into makeup business and I only have like 4 days to produce business cards. I realized that this takes like a week or so to get done especially the type of design I really wanted was a bit complex BUT simple looking so I went to multiply.com and searched for some print ads services and saw and asked alot of people. Ended up doing business with
Fun Prints Factory
.
This whole card as seen here was not totally the design I wanted and they told me if I wanted the design I really like it'll take a week so got no choice but went to the simple design, no pictures added cause most MUA are doing it so I decided not too but include my website portfolio instead in my card.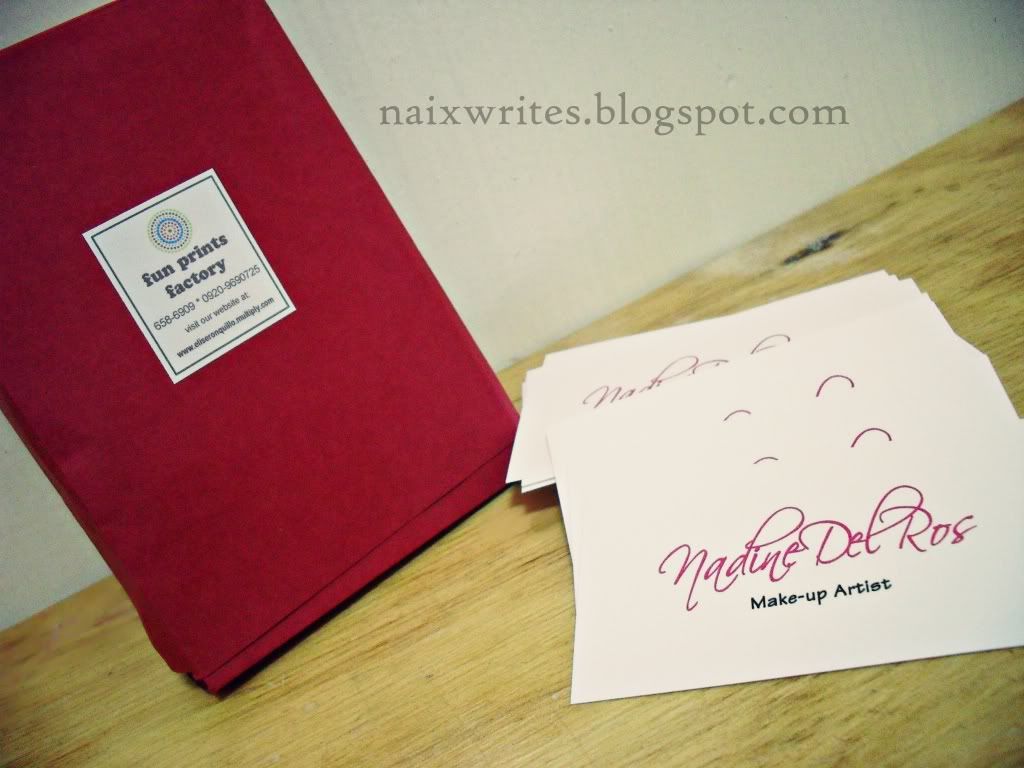 All details are in the back but cant show you cause of private reason's. aha
I decided to cut the edges so that it wont look that dull boring look and kept it simple and straight to the point.
Most people i gave my cards were amazed and asked how much I paid the extra service of cutting and what did I used to cut. I just used a pair of scissor.aha I pretty much got good feedbacks with the card I gave to and I was happy.
I really think Business cards are essential!
"
You never know when you'll bump into someone you haven't seen in years and who may just be a valuable contact. So whether your doing the grocery, out running errands, or simply hanging out with friends, make sure your business cards are tucked inside your wallet or purse. Be Prepared!"
- Belle de Jour Planner