Hey! So it's a bit early and just woke up couple a minutes ago and have to write a post.
I don't know what's with early mornings but it gives great feeling and quite pumped up up to write posts.
I know it's a bit late for this but its better to be late than never, right?
This is a first in my site and its my monthly fave's. Basically I'll be posting all of the products I have been using for the month of January and I will be briefly discuss why I love it. So here are they.
FOUNDATION: Revlon Colorstay Makeup Foundation(Nude)
This is my foundation everyday. Even though I 'am not a oily skin type I still use this because of the weather here is already like summer the only thing that I hate about this product is that it only has SPF 6.
POOR POOR! That's why I always bring umbrella with me. ugh BUT I love the heavy coverage that this product have. It easily screens out my blemishes and dark spots. I dont even need a concealer whenever using this. I guess this is a worth it product to have and I gotta get another one cause I'am starting to run low
CONCEALER: Revlon Age Defying Concealer (Light)
Another great product from Revlon. I don't know what's with this product but this brand keeps my heart beating fast. I love it! Its already been like a year or most. I don't remember but coverage is so heavy and massively creamy, Its blends easily and well into your skin. Its provides you a SPF 25! a great great plus for a product. And little goes a long way. You only need a pea size amount to cover those eye buggies of yours. A must HAVE!
PRESSED POWDER:

C

linique Super Powder Double Face Makeup Effect (01 Matte Ivory)
This is always in my bag. I use this for touch up's and when I'am too lazy to prep up for a day, this is always my route to go. ALWAYS! This has a matte finish and medium to heavy coverage. I either use a powder brush and usually a sponge with this. Plus matches my face shade.
EYEBROW: E.L.F Eyebrow Kit (Light)
The Light shade is good or enough to make my brow look natural and I'am planning to get the medium shade just to see how deeper will the shade be darker. I use this everyday to fill in and settle my brows in place using the gel side. One more thing that really pleased me with this is the brush that comes along with.
Even though its so small, I still fee; comfortable using it especially the bristles aren't that bad, they are synthetic bristles and sooo easy to maneuver around your brows. I especially love using the angled side

.
EYE PRIMER: E.L.F Mineral Eyeshadow Primer
I dont usually wear eyeshadow at work but I still use this primarily to brighten my lids and as well to let my eyeliner stay put longer. This is so creamy and really help even out the color of your lids to like prepare you for a clean canvas to put eyeshadows on. I love love this product again little amount goes a long way! Plus its super super cheap! P250 only.
EYELINER: Rimmel Kohl Eyeliner Pencil (Jet Black)
You can obviously tell that I have been using this product more than just a month. Even though it says its jet black but its super super black! After applying this though you have to let it dry a bit so that it wont stick to your lids when you like open your eyes cause it does stick upon applying because of its creaminess, which is good for me. For easily application of the product without applying it harsh on your lids.
HIGHLIGHTER: E.L.F Under Eye Concealer & Highlighter
Ever since I had this I have been hightlightning my cheek bones, my brow bone and everything with this.You can probably tell that the other side of this product is full. Which is the concealer side. OK! concealer is not the greatest concealer I have tried. It has a light to medium coverage which you all know that every hard working girl out there has eye buggie imperfections so they really need a good tough concealer. So for me I don't use much the concealer side. However, The highlighter is AMAZING!! If only I can get the highlighter only I would.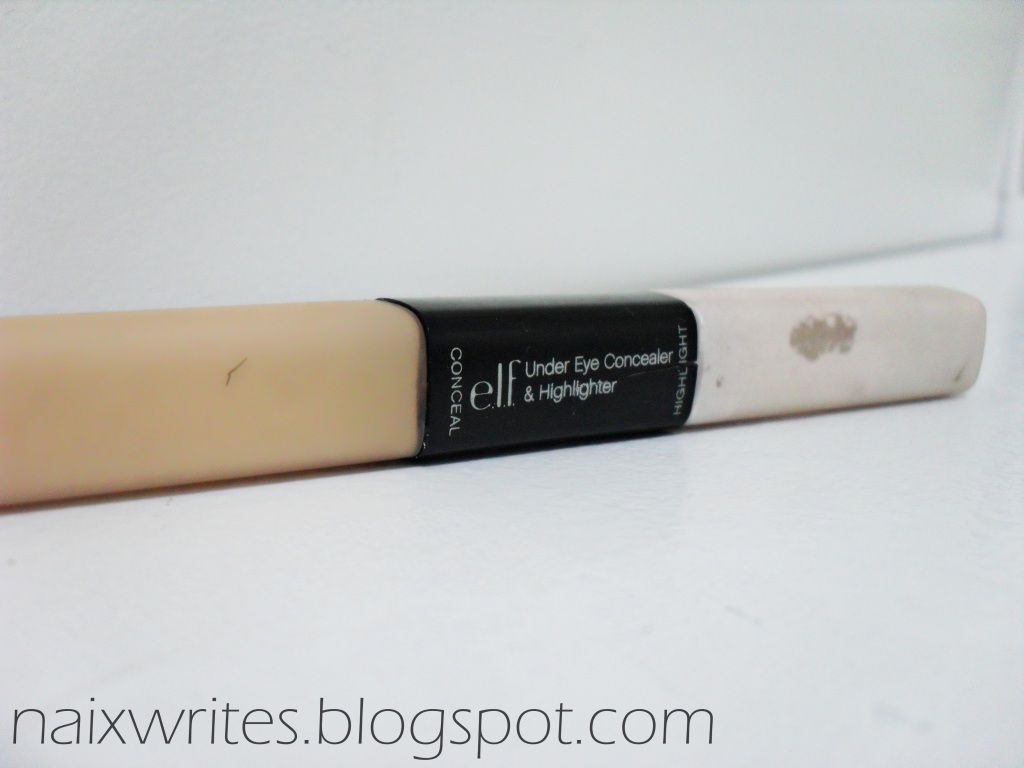 MASCARA: NYX Doll Eye Mascara
Main points why I love this, Its a volumizing mascara which really it does its job well. NYX lengthening formulation as well if your interested but I prefer volume than length haha looks more natural.
Another thing i love this, It holds your curls long enough! YES! AMAZING! I can't stress enough how proud I'am to have a wonderful inexpensive product.
LIP BALM: Burt's Bees Beeswax Lip Balm
Thank You TOY! A friend of mine gave this to me and I loved it ever since I got it. It say's it soothing, COOLING and refreshing. Well it did! and does to you lips.
I admit I was surprise how COOLING this lip balm is and every now and then before putting my make up on, I always prep my lips with this. It moisturizes and hide the flakiness my lip has. I don't have the perfect smooth lips. My lips is sooo sensitive to the weather or any product I put. And only this baby keeps it in bay. I love this and will use more often January or not!
LIP COLOR: Revlon Just Bitten(Craze) and Cover Girl Lipstain (420 Mauve)
I have been using lipstains the whole month or quite a lot actually. I interchangeably using both but for quality I love the Revlon one it stays more longer and a bit tough to remove than the cover girl plus Revlon has a lipbalm on the other side cause these products do dry up lips. But for color I love the Cover Girl Mauve! Nudes nude nude!
Here are they swatched. What I hate about the Cover Girl, The lipstain pen dries up pretty quick. Which I was warned before but still I bought it cause it has a wonderful lip color. I like it.
BLUSH: NYX Cream Rouge Blush (Red Cheeks)
Very pigmented product BECAREFUL! If you use it right it'll give you that blushing natural color which really impressed me a lot and started using everyday! Cream blushing are easy to blend, I use this with my fingers than stippling brush cause of its massive pigmentation. Again a little amount goes a long way.
FINISHING POWDER: Pure Glow Finishing Powder (Rumba Blend)
My very first ever finishing powder. I bought this at a Bazaar for P300 only not knowing what to expect.
It's a translucent product that mattifies your makeup. Great for oily skin people. I use this with my ELF Kabuki brush to buff it into my skin. Really works wonders!